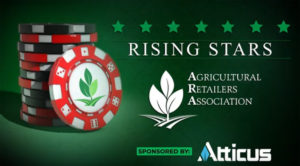 The Agricultural Retailers Association (ARA) recognized its Rising Stars Class of 2020 in a video shown from the main stage during the closing session of the ARA Conference & Expo, held virtually on Dec. 1-2.
Despite the transition to a virtual ARA Conference due to the COVID-19 pandemic, ARA Rising Stars were still able to attend educational sessions and expand their network among the agricultural retail industry's top influencers and decision makers.
The purpose of the Rising Stars program, sponsored by Atticus, is to develop and hone their leadership skills while providing a platform for ARA and its member companies to reward top performers for going above and beyond. When employees are challenged, engaged in their own professional development, and get recognized for their hard work, they are more likely to continue advancing their career with the company already investing in their future.
Rising Stars is just one of many professional improvement programs offered by ARA. Donnie Taylor, Vice President of Membership & Corporate Relations, is excited about a couple of new programs introduced this year, ARA NAVIGATOR 360° and the ARA Fleet Optimization Program with FARMOBILE. Learn more about the professional programs offered by ARA in this interview.
Interview with Donnie Taylor, ARA
(10:34)
If you missed the virtual 2020 ARA Conference & Expo, you can still register to enjoy all of the great content. Interviews and other news from the convention can be found in the AgNewsWire virtual newsroom.
Watch the video of this year's class of Rising Stars.