To further support retail partners and growers across Florida, Yara North America will now distribute their flagship calcium-based nitrogen and other Premium Products through Ambassador Services International located at Port Canaveral, Florida. The first Yara vessel was welcomed at Port Canaveral on Thursday, November 5th.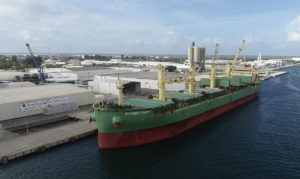 The move positions Yara to better serve key markets including citrus, specialty crops and turf and ornamentals across Florida and other niches of the Southeast region. Ambassador Services International's climate-controlled storage facilities will ensure premium products, particularly YaraLiva® TROPICOTE®, will be stored at the ideal temperature and humidity level to maintain the quality standards Yara is committed to delivering to its customers and growers.
Ambassador will also enable Yara to improve storage and handling of bulk materials and bagging in both bulk and 50 lb. bags to deliver high-quality products that accommodate the crop nutrition needs of all end-users. Additionally, the convenient ground transportation and loading facilities are expected to keep load time at a minimum. Ambassador's Port Canaveral facility complements Yara's existing distribution footprint for YaraLiva TROPICOTE and other Premium Products on the east coast which already includes Wilmington, NC and Savannah, GA.