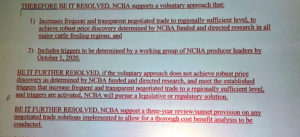 A capacity crowd of cattle producers worked for more than six hours Wednesday to agree on a policy that would help resolve concerns about live cattle marketing issues and lead the industry to more robust price discovery.
The National Cattlemen's Beef Association's Live Cattle Marketing Committee considered several proposals, each aimed at encouraging greater volumes of cash cattle trade. After intense debate, the committee and the NCBA Board of Directors unanimously passed a policy that supports voluntary efforts to improve cash fed cattle trade during the next 90 days with the potential for mandates in the future if robust regional cash trade numbers are not reached by the industry.
Over 400 cattle producers turned out in person for the NCBA Summer Meeting this week in Denver, and this issue was one of the reasons the organization went ahead with a live event with virtual options.
Ethan Lane, NCBA Vice President of Government Affairs, discusses the final policy resolution on voluntary efforts to improve cash fed cattle trade.
Interview with Ethan Lane, NCBA (6:38)
The policy passed by the Live Cattle Marketing Committee and approved by a vote of the NCBA Board of Directors can be viewed here.