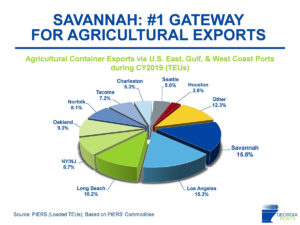 There are almost 100 ports in the United States, and of them the Port of Savannah was recently named the top port in the nation for the export of containerized agricultural goods.
"Agriculture is a major driver for Georgia's economy, contributing $74 billion in annual economic benefit and nearly 400,000 jobs across the state," said Georgia Gov. Brian Kemp. "As this country's No. 1 port for the export of agricultural products, Savannah provides vital support for the state and nation, helping our farmers reach overseas buyers efficiently."
Last year, agriculture accounted for 60 percent of Savannah's exports, or more than 843,000 twenty-foot equivalent container units. Forest products such as wood pulp, paper and logs made up the largest category of goods, followed by clay, cotton and poultry.
Georgia Ports Authority Executive Director Griff Lynch says for the fiscal year to date (July 2019-May 2020), total loaded exports have increased by 15,500 twenty-foot equivalent container units to 1.33 million TEUs. "The production of raw material and agricultural goods, along with their supply chains, have remained strong throughout the pandemic," said Lynch.