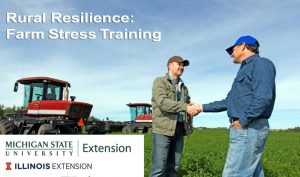 Farm Credit, American Farm Bureau and National Farmers Union today announced the launch of a farm stress management online training course available for the general public.
Developed by Michigan State University Extension (MSU Extension) and University of Illinois Extension (Illinois Extension), the course will help farmers, their families and neighbors identify and cope with stress. It provides participants the skills to understand the sources of stress, manage their own stress, learn the warning signs of stress and suicide, identify effective communication strategies, and connect farmers and ranchers with appropriate mental health and other resources.
The challenges of ongoing low commodity prices, trade wars and extreme weather events have dramatically affected farmers and ranchers for years. Add the COVID-19 pandemic and its economic disruptions, and that stress multiplies. Stress among farmers and ranchers is felt throughout farm operations and seeps into cities and towns across the country.
The course builds on past training materials developed beginning in 2016, and tailored for the U.S. Department of Agriculture's Farm Service Agency in 2019. Additional courses and specific training have since educated employees and members of Farm Credit, Farm Bureau and Farmers Union nationwide.
Making the announcement today via webcast were:
• Todd Van Hoose, President and CEO, Farm Credit Council
• Zippy Duvall, President, American Farm Bureau Federation
• Mike Stranz, Vice President of Advocacy, National Farmers Union
• Cheryl L. Eschbach, Director, Health and Nutrition Institute, Michigan State University Extension
• Courtney Cuthbertson, Assistant Professor and Extension Specialist, University of Illinois Extension
Listen here:
Farm Stress Management Course announced