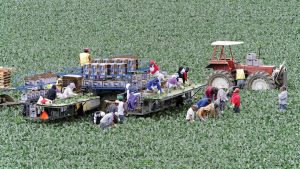 Beginning today, the United States will suspend routine immigrant and nonimmigrant processing visa services in Mexico indefinitely, including immigrant workers approved under the H-2A guest worker program who are needed to help farmers and ranchers get food in the grocery stores.
"The decision to halt visa application processing in Mexico will restrict the number of immigrant workers being allowed to enter the country," said American Farm Bureau Federation president Zippy Duvall. "Under the new restrictions, American farmers will not have access to all of the skilled immigrant labor needed at a critical time in the planting season. This threatens our ability to put food on Americans' tables."
Farm Bureau is urging USDA, the State Department and the White House to find "safe, practical ways to admit farm laborers as emergency workers for visa purposes while still protecting public health."
The National Pork Producers Council (NPPC) renewed its call for government help to prevent a severe labor shortage from becoming a crisis, since Mexico is a very important source of labor for U.S. hog farmers and packing plants.
"I want to underscore that our farms and plants are not in crisis today," said NPPC President Howard "A.V." Roth, a pork producer from Wauzeka, Wisconsin. "Farmers are the foundation and heart of the food supply system. Hog farmers and others in the pork industry are doing their part to ensure American kitchens are well-stocked. But we are very concerned about the recent State Department announcement regarding consulates in Mexico and the implications for our operations."
NPPC is specifically asking for clarity from the U.S. Department of Transportation that farms are part of the critical domestic infrastructure needed to produce the food that feeds America and the world to ensure the uninterrupted supply of commercial feed and other production inputs to farms, as well as the transport of livestock from farm to market. Hog farmers also have concerns about the potential shortage of standard supplies such as boot covers, coveralls and disinfectants needed to maintain high standards of biosecurity, animal care and food safety. NPPC would also like to see provisions in the pending congressional relief package to provide financial support for childcare for farm and plant workers.