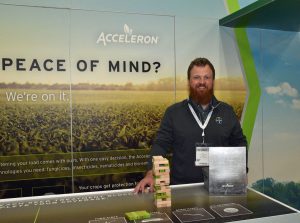 A key message from Bayer at the 2020 Commodity Classic encouraged growers to ensure they're fully protected from whatever Mother Nature might throw at them during the approaching growing season. One way to do that is to use Acceleron Seed Applied Solutions on corn, soybean and cotton acres.
"As you look at the investment that farmers are making today from a seed perspective, ensuring that we've got full protection on that seed to really maximizing it's health and growth potential throughout the season, ensuring that we get off to the best start as possible, seed treatment – specifically Acceleron Seed Applied Solutions – is going to help us do just that," said A.J. Hohmann, Acceleron U.S. Marketing Manager.
Hohmann said there is still some uncertainty in the market across the entire industry as some growers are finalizing those last minute decisions, but most growers have seed orders in and are just waiting for good planting conditions.
A.J. Hohmann, Acceleron U.S. Marketing Manager
Interview with A.J. Hohmann, Bayer Acceleron 3:48