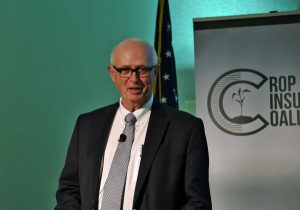 Economist Bob Young told those attending the 2020 Crop Insurance and Reinsurance Bureau Annual Meeting that the general economy is not in a bad place, and he expects some economic growth in the year ahead.
When it comes to the agriculture sector specifically, Young has questions about what will happen with all of the acres that were not planted in 2019. Other potential challenges to agricultural prices include disease pressure in China that could affect demand there. But Young said agriculture is persisting through some difficult times.
"The data doesn't bear out this notion that we're a sector clinging on by our fingernails," said Young. "It's doing okay."
One example of that is the fact that agricultural lending is down, which Young views as a positive indicator.
2020 Economic Outlook
Remarks from Bob Young, Agricultural Prospects (39:53)
Interview with Bob Young, Agricultural Prospects
Interview with economist Bob Young (6:47)
2020 Crop Insurance and Reinsurance Bureau Annual Meeting Photo Album