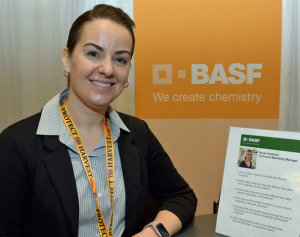 BASF's newest fungicides are powered by a new active ingredient that provides fast uptake and curative activity, enhanced binding strength, and exceptional performance under high disease pressure. Revysol fungicide brings a new level of disease control and efficacy to the Class 3 group of chemistry for BASF's Revytek soybean fungicide product and Veltyma corn fungicide offering.
"We want to make sure that we're protecting our plants from everything that Mother Nature is throwing their way, making them as robust as possible so that they can maximize their opportunity for photosynthesis and yield production," said Paula Halabicki, technical marketing manager.
Halabicki said the chemistry is unique in the way it gets into the plant and moves to control diseases, providing a residual effect that lasts throughout the season. Both products are registered and available for use during the 2020 growing season.
Listen to the interview with Paula here: NAFB19 Paula Halabicki, BASF (3:21)