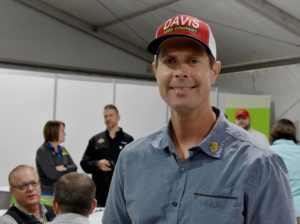 Rep. Rodney Davis (R-IL) spent time Tuesday in his own 13th District, visiting the Farm Progress Show in Decatur.
Davis said the event is a great place to see farmers and agricultural companies alike, and recognized a level of displeasure in the agriculture industry when it comes to trade. He said a vote on the United States-Mexico-Canada Agreement (USMCA) is critical and would help farmers to get what they're looking for, and that's a market for their products.
"It's crucial for Illinois because 40 percent of our Illinois ag products are exported to Canada and Mexico, and it has given China leverage to walk away from the table," said Davis. "It could be the lynchpin. It gives America leverage over countries like China who have been trading unfairly, and it gives us a starting point to be able to get a deal on the floor of the House. I think it opens the floodgates."
Davis also realizes the ethanol industry is unhappy with recent refinery waivers and said those need to be limited to small refiners in the future.
Listen to Cindy's interview with Rep. Davis here: Interview with Rep. Rodney Davis, R-IL 13th District