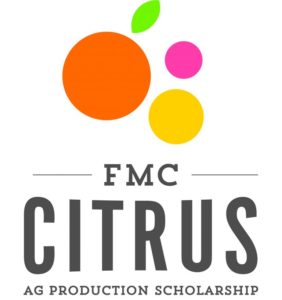 FMC and AgNet Media have teamed up to help the future of the citrus industry by launching a scholarship program for citrus and horticulture degrees.
Launched at Citrus Expo 2019 last week in North Fort Myers, the FMC Citrus Ag Production Scholarships (FMC CAPS) will award five $5,000 scholarships to students interested in pursuing a degree program in citrus and horticultural sciences, two for Florida Southern College students and three at the University of Florida.
"FMC understands how important the next generation is to the citrus industry in Florida," said Eric Johnson, FMC retail marketing manager. "We hope this scholarship will encourage college students to pursue careers related to citrus."
Florida's citrus crop has dwindled to about one-third the size it was 20 years ago, primarily due to losses from citrus greening, which has no cure, but controlling Asian citrus psyllid populations is a key management strategy.
"We believe investing in citrus education programs is one avenue to help revitalize the Florida citrus industry after the devastating impacts from citrus greening disease," said Ryan Osborn, the southeast region business manager for FMC.
"To grow citrus successfully in Florida takes education, tenacity and resolve, as the industry stands at the threshold of a new beginning," said Gary Cooper, president and founder of AgNet Media. "The FMC Citrus Ag Production Scholarship will help attract a new crop of committed growers."
Applications for FMC CAPS are due December 1 and require a video essay submission. Those interested in learning more can go to citrusindustry.net for details. Winners will be announced at Citrus Expo 2020.