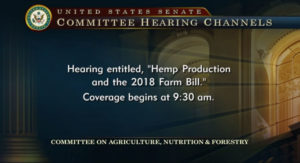 The Senate Committee on Agriculture got an update on "Hemp Production and the 2018 Farm Bill" Thursday with clear support from the leadership.
Chairman Pat Roberts (R-KS) said while there are cautions regarding this new crop, 'I am extremely supportive of new opportunities for farmers. It is not often that an almost entirely new crop with this level of interest and market potential comes along."
Ranking Member Debbie Stabenow (D-MI) related the long history of hemp growing in this country and said "this new old crop is creating exciting opportunities for farmers and the greater supply chain."
Hemp products are already popular in the U.S. marketplace. Nationally it is estimated that U.S. hemp retail sales are at more than $700 million annually, and this market is expected to grow at a 10% to 20% rate.
The senator most responsible for getting hemp legislation in the Farm Bill is Senate Majority Leader Mitch McConnell (R-KY), a senior member of the Senate Agriculture Committee, and he attended the hearing to make his own comments and introduce hemp farmer Brian Furnish of Cynthiana, Kentucky as a witness. McConnell says hemp is a really big deal in his state of Kentucky. "In just six months of legalization, we're now growing it in 101 of 120 counties," said McConnell.
Listen to opening remarks from all three senators here:
Senate Ag Committee hearing on Hemp Production opening remarks