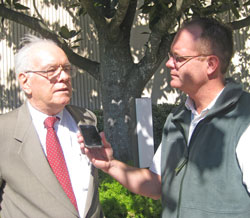 I am sad to learn of the passing of Jerry Stoller, founder of Stoller Enterprises. I only met him once but he's one of the men in this industry who made an impression and impact on me in just the short time I got to talk with him. Here's the announcement from the company.

Stoller Enterprises Founder, Jerry H. Stoller passed away on June 19, 2019. He was 84. "All of us are mourning the passing of our company's founder, Jerry Stoller. Jerry will be remembered as an entrepreneur and a revolutionary pioneer in plant physiology, plant nutrition, and plant hormone technology. He dedicated his life to finding ways to help good things grow," said Guillermo de la Borda, President of Stoller Group. Jerry Stoller was Chairman of the Board of StollerUSA and Stoller Group, and creator of the Stoller Foundation which incubates and accelerates non-profits focused on evangelism and volunteerism.

I met Jerry in 2009 at the 16th annual U. S. Ag Associates Conference in Houston, TX. I was there to create content for the John Deere Drive Green Utility Tractor Show but had time to stop by and speak to Jerry during their lunch break. Jerry is one of the industry leaders I've had the honor to interview for my weekly podcast. I think you will enjoy listening to what he had to say because so much of it is still relevant today.
ZimmCast 204 with Jerry Stoller:Interview with Jerry Stoller