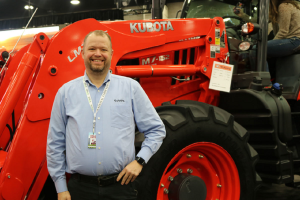 Kubota Tractor Corporation showed off its new M7 Generation 2 deluxe tractor at the National Farm Machinery Show in Louisville, Kentucky.
"It's got all of the simplicity and controls of our standard tractor, but now we've added a tractor with the Closed Center Load Sensing hydraulics," said Kent Brown, senior product manager. "So, for farmers that have a value conscious need for a tractor but want a high performing hydraulic system, this tractor is going to be built for those customers."
Brown said the front end loader on the M7 Gen 2 tractor is best in class. It's good for baling hay, but this tractor can also pull a smaller planter or sprayer. Other improvements include a new semi-powershift transmission and an exceptionally clean diesel engine.
Production has already started, with expected delivery to dealers late first quarter and early second quarter of 2019. Learn more from local dealers or at www.kubotausa.com.
Listen to Laura Handke's interview with Kent Brown here: Interview with Kent Brown, Kubota