A new alliance between industry and regulators shows fertilizer and ag retailers are serious about safety​.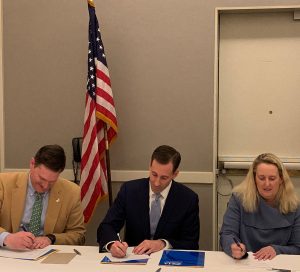 The U.S. Department of Labor's Occupational Safety and Health Administration (OSHA) joined with The Fertilizer Institute (TFI) and the Agricultural Retailers Association (ARA) to provide training resources and safety information for workers, emergency responders, and communities within the agricultural retail and supply industry. ARA President & CEO Daren Coppock, TFI President & CEO Chris Jahn and Acting Assistant Secretary of Labor for OSHA Loren Sweatt signed the agreement together in Washington D.C. on Monday.
The alliance will build upon the stewardship efforts associated with the ResponsibleAg program, a voluntary initiative created in 2014 by TFI and ARA to enhance health, safety and security performance at agricultural retail facilities.
During the two-year alliance, participants will focus on the safe storage and handling of ammonium nitrate and anhydrous ammonia – materials used in fertilizers. Alliance participants will also share emergency response information with agribusiness communities and first responders. With assistance from industry training organization ResponsibleAg Inc., the alliance will help agricultural retail facilities comply with safety and health standards for safe handling and storage of fertilizer products.
Prior to the official recognition of this alliance, OSHA, in cooperation with ARA, TFI, and ResponsibleAg Inc., developed a video that describes the agency's inspection process under the Regional Emphasis Program for Fertilizer Grade Ammonium Nitrate and Agricultural Anhydrous Ammonia Facilities. The video is one of the first products under the alliance agreement.
Watch the video here: