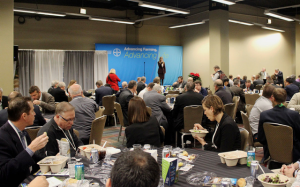 Bayer had a presence at the American Seed Trade Association (ASTA) CSS & Seed Expo in Chicago, including Mike Lewis, who represents the company on the ASTA Board of Directors. Lewis said it is important for companies like Bayer to come together with others in the industry with a unified voice as they face new opportunities, as well as new challenges. Those in attendance heard from Leticia Gonçalves, U.S. Country Head for Bayer CropScience.
"I explained to the group what is our new vision and mission with Bayer CropScience now that we brought Monsanto and Bayer together into a new crop science division," said Gonçalves. "I basically talked about our mission of shaping agriculture, benefitting growers, consumers and the planet, and out three strategic pillars, which are accelerated innovation, sustainability and digital transformation."
Gonçalves shared plans to partner with groups like ASTA to make sure companies combine their capabilities to bring more value to the market.
Listen to Cindy's interview here: Interviews with Mike Lewis and Leticia Gonçalves, Bayer
Bayer at 2018 ASTA CSS and Seed Expo photos