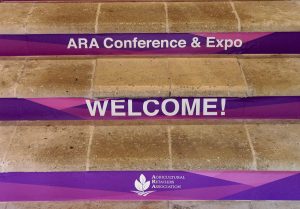 The Agricultural Retailers Association (ARA) opened its 2018 Conference and Expo in Boca Raton, Florida yesterday, bringing together nearly 600 agricultural retail leaders, suppliers, and industry partners.
"The ARA Conference and Expo is the premier event for ag retailers," said ARA President and CEO Daren Coppock. "Each year we come together to honor the industry's best. We hear from engaging speakers who highlight industry trends, and we explore the issues that ag retailers and their farmer customers will face in the coming year."
The conference kicked off with the Annual ARA Invitational Golf Tournament, affording participants the opportunity to network and create relationships, which are the foundation of successful partnerships for ag retailers. Ambassador Darci Vetter, General Manager of Public Affairs & Vice Chair of Agriculture Food and Trade of Edelman Public Affairs presented a workshop entitled, "Trade, Tariffs, and Their Impact on American Agriculture."
Highlights today include a keynote address from Chuck Magro, chief executive officer of ARA member Nutrien, and John Spence, author of Awesomely Simple. ARA will also name its 2018 Retailer of the Year and recognize dedicated leaders with the Distinguished Service Award and the Jack Eberspacher Lifetime Achievement Award.
Coppock previews what is in store for the conference, which runs through Thursday, in this interview. Interview with Daren Coppock, ARA President/CEO
2018 ARA Conference & Expo Photo Album
Preview Interview: