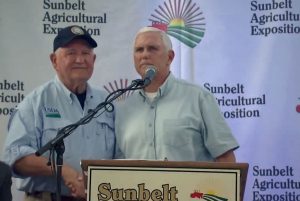 Vice President Mike Pence spoke to farmers at the Sunbelt Ag Expo in Moultrie, Georgia Tuesday and toured agricultural damage caused by Hurricane Michael.
"A once-in-a-generation storm that dealt a direct and devastating blow to Florida's panhandle and Sunbelt's farm country," said Pence, who visited Decatur County and toured a feed mill damaged in the storm.
Listen to the Vice President at Sunbelt –
VP Mike Pence addresses 2018 Sunbelt Ag Expo
Agriculture Secretary Sonny Perdue, former governor of Georgia, accompanied Pence and his wife Karen on their tour of the state. Pence was briefed on the agricultural damage by Agriculture Commissioner Gary Black, who was interviewed by Randall Weiseman of Southeast AgNet about the extent of the hurricane's destruction.
Listen to that interview here –
Southeast AgNet interview with Gary Black, GA agriculture commissioner
Randall also caught up with Alabama Farmers Federation President Jimmy Parnell at Sunbelt and asked him about the damage in the Southeast corner of Alabama.
Listen to that interview here –
Southeast AgNet interview with Jimmy Parnell, ALFA president