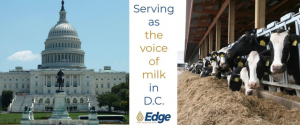 EDGE Dairy Cooperative has been focusing on engaging more actively for its members at the federal level, according to Mike Torrey with Torrey Associates.
Torrey said the cooperative has put together an effective effort in the nation's capitol through fly in events, testimonies and social media campaigns to speak for America's dairy farmers.
"We need to think long term," said Torrey. "And oftentimes to win means that you just have to do the blocking and tackling day in and day out, and that hard work ultimately lays the foundation for when the opportunity in D.C. presents itself that the organization is in a good place and that their members are in a good place."
Dairy farmers are watching trade talks and farm bill negotiations closely as they endure extremely low commodity prices for their products. Labor shortages also continue to present difficulties for dairy producers. Torrey said there do seem to be opportunities ahead with regard to global markets and farm bill provisions, and told farmers to take comfort in the fact that the cooperative is staying ahead of the curve when it comes to engagement and having a voice in Washington, D.C. Torrey was at the 2018 World Dairy Expo in Madison, Wisconsin.
Listen to Chuck's interview with Mike here: Interview with Mike Torrey, Torrey Associates