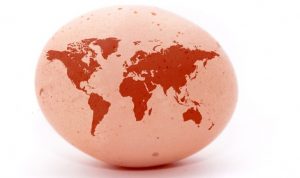 More than 40 countries around the world are celebrating the most incredible source of "Protein for Life" today on World Egg Day.
One large egg has 13 essential vitamins and minerals and six grams of high-quality protein for just about $0.17 each. But eggs are are more than a highly affordable protein source, they also have a low environmental impact, making them both nutritious and sustainable.
The Food and Agriculture Organization of the United Nations has a broad definition of sustainable diets that also includes factors such as economics and society, according to Mickey Rubin, Executive Director of the Egg Nutrition Center, which is part of the American Egg Board. "They define sustainable nutrition as – food has to be nutritious, it has to be culturally acceptable, it has to be sparing of environmental resources, and it has to be affordable," says Rubin. "Eggs really have a low environmental impact and really fit the bill on the other aspects as well."
Rubin says the theme "Protein for Life" also refers to efforts to help sustain local communities economically, which is a key effort of the International Egg Foundation (IEF), providing resources for communities in Mozambique, Swaziland and Zimbabwe to become successful egg producers.
Learn more about the incredible source of "Protein for Life" from the American Egg Board and in this interview. Interview with Mickey Rubin, Egg Nutrition Center