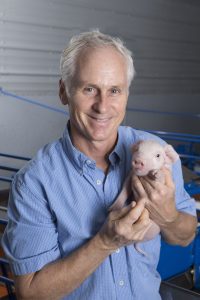 The National Pork Board has named Patrick Bane, a pig farmer from Arrowsmith, Illinois, as America's Pig Farmer of the Year for 2018. The award recognizes a pig farmer who excels at raising pigs using the We Care ethical principles and who connects with today's consumers about how pork is produced.
Raising pigs has been a life-long passion for Bane, whose family has been raising pigs for three generations. Bane raises 74,000 pigs on his farm in central Illinois, where he focuses on protecting public health, hiring the best people and maintaining herd health.
"It's our responsibility to show the public that we are doing the right things to care for our animals and keep them healthy," Bane said. "We need to foster an increased understanding about how food is raised using today's modern technology. It's not only good for us as farmers, but it's good for consumers. You can't drive that point home enough. We have a lot of good, positive stories to share."
Bane was named America's Pig Farmer of the Year following a third-party audit of his on-farm practices and after taking part in a series of written and oral interviews by subject-matter experts. He has achieved excellence in all aspects of pig farming, including animal care, environmental stewardship, employee work environment and outstanding community service.