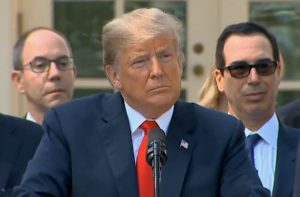 Out with NAFTA and in with USMCA, the initials for the new U.S.-Mexico-Canada agreement.
"This new deal is an especially great victory for our farmers," said President Donald Trump as he announced the agreement this morning. "The deal includes a substantial increase in our farmers' opportunities to export American wheat, poultry, eggs and dairy – including milk, butter, cheese, yogurt and ice cream."
Under the agreement, Canada will eliminate its "Class 7" program that allows low-priced dairy ingredients to undersell American dairy products.
Audio – President Trump announces USMCA benefits for agriculture
Agricultural organizations are praising the agreement, particularly the dairy industry groups. American Farm Bureau Federation (AFBF) president Zippy Duvall says the USMCA includes "new provisions to provide science-based trading standards, timely review of products produced through biotechnology and gene editing and new provisions on geographic indications." Even the National Farmers Union, which tends to be critical of most trade deals, called the agreement encouraging. "While this agreement is certainly no cure-all, it is hopefully a start to repairing our trade relationships around the world, to restoring our reputation as a reliable trading partner, and to resolving longstanding issues with discrimination against U.S. wheat," said NFU president Roger Johnson.
Canadian officials agreed to sign the agreement late Sunday before the midnight deadline. It now goes to Congress for review.