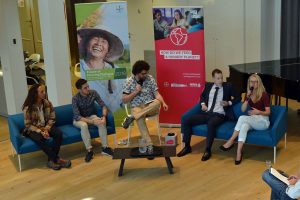 Bayer is now accepting applications for the fourth edition of the Youth AgVocate Summit, which will take place November 4-9, 2019, in Brasília, Brazil. The event has been held every other year since 2013.
Several participants from the 2017 YAS in Belgium attended last week's Future of Farming Dialogue in Germany and Netherlands. Four joined moderator Simon Pampena for a panel at Wageningen University. Left to right, we heard from Magnus Kamau Lindhart – Denmark/Colombia; Maurizio Chiurazzi – Italy; Luke Bloomfield – United Kingdom; Florine Kremer – Netherlands.
Listen here: Youth Ag Summit panel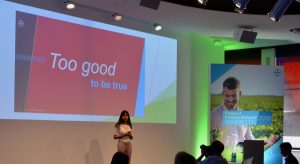 The Youth Ag Summit brings together 100 young talents aged 18 to 25 from across the globe to develop solutions and answers to one of society's most challenging questions: how to feed a hungry planet in a more sustainable manner.
Also at the Dialogue was Shafina Hossain, who represented Bengladesh at the 2017 Summit and is a member of the Next Gen Council. She spoke about reducing post-harvest loss for Bangledesh farmers – Shafinaz Hossain, Youth Ag Summit 2017