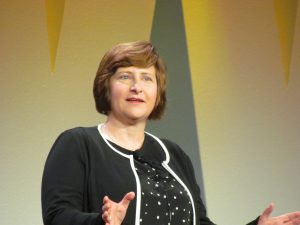 The theme of the 2018 GROWMARK Annual Meeting in Chicago is more than just a theme. It's also the strategy the company will use moving forward.
The executive team is focusing on the word "GROW" – an acronym they plan to use to reflect an entire enterprise strategy across all of the cooperative's business units, according to Ann Kafer, vice president of human resources and strategy officer.
The GROW acronym stands for Good Relationships, Resources of Unmatched Value, Optimized Supply Chain, and Winning Innovations.
"This is about growing, but it's growing in efficiency, growing in profitability, growing geographically but truly growing in our ability to be an unsurpassed customer experience for our farmer owners and our member companies," said Kafer, who served as emcee for the Agribusiness Symposium portion of the meeting.
The symposium included four speakers and each one spoke on a specific pillar of the GROW strategy. Burn survivor John O'Leary handled Great Relationships. Business expert Scott McKain spoke on Resources of Unmatched Value. Scott Komar with Driscoll's Berries shared his company's story regarding an Optimized Supply Chain, and Duke's Mike "Coach K" Krzyzewski talked about Winning Innovations.
Learn more in this interview: Interview with Ann Kafer, GROWMARK VP of Human Resources