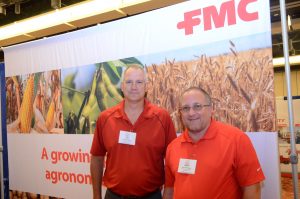 FMC is one of the many companies and organizations that provide support for the Ag Media Summit making it more affordable for everyone to attend. They also participate in the Info Expo to meet with editors and share their latest news.
FMC regional technical manager Gail Stratman (pictured left) was on hand to talk about fall weed control and the solutions that FMC offers for growers. "As we get toward the end of the 2018 growing season, it's imperative for growers to take stock of where their weed issues were this year," said Stratman. "Products like Panoflex® and Crusher® provide very good winter annual weed control in the fall and some residual control in the spring."
Listen to my interview with Gail here: Interview with Gail Stratman, FMC, on fall weed control
Brent Jacobson, FMC product development manager, provided an update on Lucento fungicide for corn, soybeans, peanuts, and sugar beets. "We are expecting registration third quarter of this year so we'll be launching it next year," said Jacobson.
Jacobson adds that FMC has a strong pipeline of new active ingredients that are being developed that they are very excited about. Learn more in this interview. Interview with Brent Jacobson, FMC, on Lucento fungicide