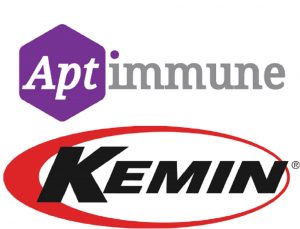 Aptimmune Biologics and Kemin Industries have formed a partnership in the global vaccine industry.
As of July 31, 2018, Kemin is now an equity shareholder in Aptimmune and has exclusive rights to its vaccines and vaccine technologies outside the U.S. As part of the Kemin-Aptimmune partnership, the companies have formed Kemin Biologics, which will manufacture and market Aptimmune's proprietary Barricade™ swine vaccine technology and products outside the U.S. According to Andy Smythe, Technical Sales and Marketing Director for Aptimmune Biologics, the relationship with Kemin is an ideal fit for both companies.
In the U.S. market, Aptimmune will retain development, sales and marketing responsibilities for its intellectual property and existing vaccine products made with Barricade technology. The Kemin Biologics partnership will be managed by representatives from both companies.
The relationship brings together Kemin's long-standing dedication to novel and value-added products in the global marketplace and Aptimmune's unique and field-tested Barricade swine product portfolio.