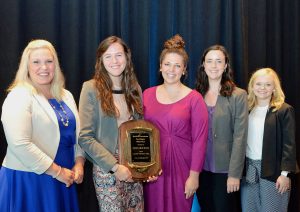 Several talented and motivated young ladies were awarded scholarships this week at the Ag Media Summit to help them with their future careers in the industry
The Livestock Publications Council and Alltech recognized four students as Forrest Bassford award finalists. Pictured left to right are Jenn Norrie with Alltech; Madison Hokanson, SDSU; Alexa Nordwald, MU; Sarah Moyer, K-State; and Kiera Leddy, OSU.
Maddie Hokanson was named the recipient of a $2,000 scholarship and all received $750 travel scholarships to attend the convention.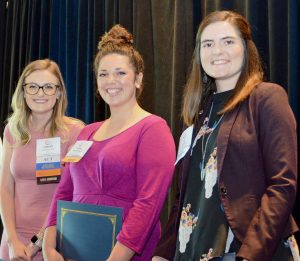 The AAEA scholarships, made possible in part by CoBank and through a grant from the Professional Improvement Foundation, were presented to (LtoR) Carryn LaRue, Utah State; Alexa Nordwald, MU; Jill Seiler, K State; and Catherine Jones, UNL (not pictured).
The Jim Evans Scholarship was presented to Alexa Nordwald, who is also one of two AAEA interns here at the summit, along with Cheyenne Dunn, Purdue.
I had the opportunity to interview Maddie and Alexa about what the awards mean to them.
LPC Forrest Bassford award winner –
Interview with Madison Hokanson, SD State University
AAEA Jim Evans Scholarship award winner –
Interview with Alexa Nordwald, University of Missouri