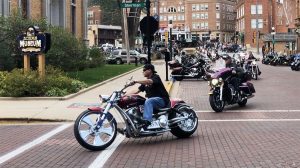 Driving the Renewable Fuels Association motorcycle in this year's Legends Ride is RFA's Robert White. I have a short video clip of the beginning of the parade of bikers who took part in the event.
The event is sponsoring the Special Olympics South Dakota – Rapid City Flame and Sturgis Motorcycle Museum & Hall of Fame. RFA is a sponsor of the Ride.

The Legends Ride® was created by the Sturgis Buffalo Chip® to raise significant funds for worthwhile charities in the Black Hills of South Dakota. Its goal is to positively impact local youth and preserve the rich heritage and history of motorcycling by uniting the motorcycle, music and entertainment industries, as well as riders from around the world.