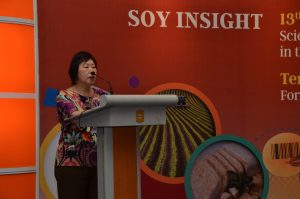 The Southeast Asian region represents a large part of the world's soy consumption, and a significant market for U.S. soy products. While dietary needs and preferences are changing in that region, U.S. soy is still an important part of meeting the region's demand.
"Southeast Asia is a very traditional soy food consumption region," said Boon Yee Yeong, Senior Technical Consultant for Human Utilization in Southeast Asia for the U.S. Soybean Export Council (USSEC). "A quarter of the world's soy food is actually consumed in Southeast Asia. Over the past 25 years, definitely we are moving away from a lot of the old traditional soy food into the new modern trait. I think it can be seen through a lot of the new innovation in terms of soy products, and even the traditional soy food is actually taking a new life. They are much more attractive to the younger generation. And, of course, people are recognizing the functional benefit of eating soy, so definitely there is a movement of the producers and manufacturers to capture this new identity of soy."
Education programs coordinated by USSEC have been instrumental in promoting U.S. soy to the region, which imports American soy products for use in every sector, from traditional to new foods and from high value ingredients to generic products.
Listen to Jamie's interview here: Interview with Boon Yee Yeong, USSEC SE Asia