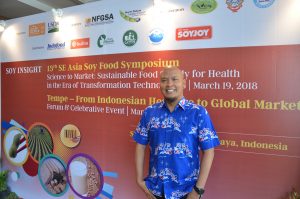 The U.S. Soybean Export Council (USSEC) hosted its 13th Annual Southeast Asia Soy Food Symposium in Indonesia, bringing together all stakeholders in the soy food industry in that region.
"Soy food is one of the most important sources of diet for our region, so it has become one of the most important food sources for many of us here. So this event is really a place to build networking between soy suppliers and soy users in the region," said Dady Maskar, Soy Food Program Manager for USSEC Southeast Asia.
Consumers in the region want tempe and tofu, primarily. Producers face challenges including food safety, hygiene and the ability to source good quality soybeans. Maskar said Indonesia chooses U.S. soybeans because of the quality and the support they get from the U.S. soy industry, including education for producers in that region. This event is an important opportunity for networking between the U.S. soy industry and soy buyers in Indonesia and other southeast Asian countries.
Listen to Jamie's interview here: Interview with Dady Maskar, USSEC SE Asia