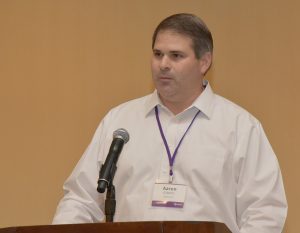 Aptimune Biologics is fighting swine disease with vaccines formulated especially for Porcine Reproductive and Respiratory Syndrome virus and influenza. In 2017, the company introduced the BARRICADE formulation technology. A recent symposium in San Diego gave veterinarians who have been conducting field trials with that mucosal vaccine to share how the product is performing.
"The reality is that we've got to know more about our product than anybody, and it doesn't always work so it's important for us to distinguish when it's appropriate to use and when it doesn't work as well so we can educate people when they're making product choices," said Aaron Gilbertie, Aptimune CEO.
Gilbertie reported about an 85 percent success rate for the BARRICADE vaccine, with more trials in progress.
Listen to Chuck's interview with Aaron here: Interview with Aaron Gilbertie, Aptimmune