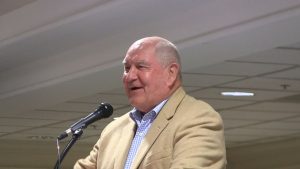 Secretary of Agriculture Sonny Perdue visited the annual Mid-South Farm and Gin Show in Memphis for the first time Saturday and brought good news for cotton growers.
"We are announcing a Cotton Ginning Cost Share (CGCS) program," Perdue said to applause from a large crowd at the show, adding that it took longer than he wanted to get the assistance for the industry. "I had to look in between every cushion in every couch in USDA," he said. The program will assist growers from the Southeastern U.S. to the San Joaquin Valley of California as they prepare to plant this season's crop.
The National Cotton Council says the program will offset part of a cotton producer's 2016 crop season ginning cost to help fill the safety net void until the seed cotton ARC/PLC program is implemented beginning with the 2018 crop year.
The sign-up period for the CGCS program runs from March 12, 2018, to May 11, 2018.
Audio file: Secretary Perdue at Mid-South Farm and Gin Show
Thanks to the "retired" Forrest Laws on hand for the announcement Saturday morning for helping us out with this content.