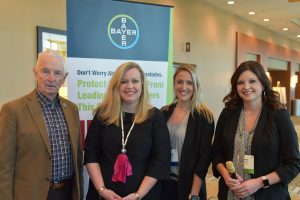 Soybean cyst nematode (SCN) remains the most critical yield-limiting threat to soybeans and yield loss is likely to increase in the future. Bayer is proud to be an SCN Coalition member and supports their mission to promote SCN awareness and give growers the right tools to effectively combat this pest with active management.
Dr. George Bird, a professor at Michigan State University, said a similar coalition existed about 20 years ago, but with new farmers and new problems including the fact that the disease is overcoming resistant varieties popular with farmers today, there is a need for a second coalition.
"It came about as the SCN Coalition was looking for people to partner in the industry, and we were one of those that were asked to be a part of it, and just really excited to support what they do and get the word out and education of the importance of SCN management," said Rachel Walters, marketing manager for Bayer's southern region.
Bayer's tools to protect against SCN include ILeVO seed treatments, which are also effective against Sudden Death Syndrome (SDS) in soybeans.
Learn more in Jamie's interview to learn more about their fight against soybean cyst nematodes: Interview on Bayer & SCN Coalition Partnership
Press conference with SCN Coalition during Commodity Classic: SCN Coalition Press Conference
2018 Commodity Classic Photo Album
Photos, video, and audio interviews from Bayer at Commodity Classic