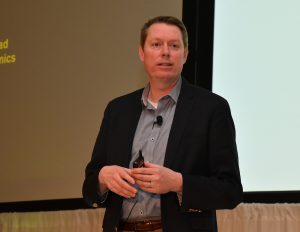 Prior to the start of Commodity Classic, Bayer is holding its AgVocacy Forum. This event has been held for over ten years now with the goal of stimulating thoughtful discussion about the food and agriculture industry. This year's program has added some new features like Ag Tech Talks on drones and new soil nutrition technology.
As you might guess, using a hashtag like #AgVocate, there is a big focus on social media here. Lots of tweeting going on.
One of our first keynote speakers was Jayson Lusk, Farm Economist, Professor and Head of Agricultural Economics Department, Purdue University. His topic: Outlook for Agriculture: 2018 Farm Bill and the Need to AgVocate. I visited with him after his talk to get a few take aways.
One that intrigued me was the subject of how effective memes and messages on the need to "feed the world" are, especially on influencers of consumer/public perceptions. It doesn't seem like there is a very clear answer to this or even who the actual influencers are. You can probably think of a number of these messages that have been developed by farm groups and agribusinesses that have invested heavily in them to help communicate the message of the importance of agriculture. Which ones do you think have been effective?
You can listen to my interview with Jayson here to learn more: Interview with Jayson Lusk
Remarks from Jayson Lusk, Purdue University at Bayer Forum
2018 Bayer AgVocacy Forum Photo Album
Photos, video, and audio interviews from Bayer at Commodity Classic