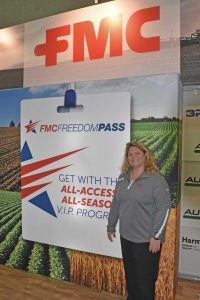 As growers plan for the 2018 growing season, many are fighting weed resistance on their farms while still looking for opportunities to make decisions that make the most sense economically.
The FMC Freedom Pass program can help by offering agronomic rewards, financing opportunities, product assurances and application innovations.
"I've had great response from my customers, my retailers, as well as growers that I've visited," said Jennifer Maruszewski, FMC retail market manager in northern Indiana. "They find our program to be simple. They find it to be flexible from the standpoint they don't have to have a certain seed purchase. They can focus on their chemistry and make good agronomic decisions and be rewarded for that."
Maruszewski said the program works with John Deere Financing to offer growers zero percent interest through Dec. 31 with a $5,000 minimum purchase made by July 31, 2018.
Listen to Chuck's interview with Jennifer here: Jennifer Maruszewski, FMC