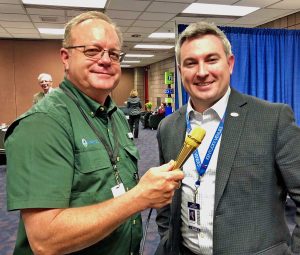 Kentucky Agriculture Commissioner Ryan Quarles was at the 2018 National Farm Machinery Show in Louisville this week. But just a few days prior, he was among those meeting with President Trump for the unveiling of a rural infrastructure plan.
"This President and his Administration have an emphasis on investing in Rural America. And farmers, as we know, are caretakers of Rural America," said Quarles. "So I was excited to see $50 billion proposed for earmarks specifically for rural infrastructure. This means broadband internet, improving our roadways, and improving our waterways, which is so important for agriculture as we export more now than we ever have before."
Quarles said a strong majority of Americans agree with investing in the country's infrastructure. He said he understands many decisions about how that money is spent will happen at the state level, which is something he supports.
Listen to Chuck's interview with Ryan Quarles: Interview Ryan Quarles, Kentucky Agriculture Commissioner