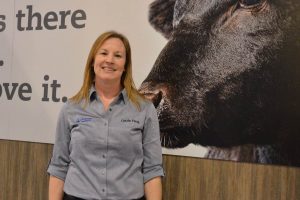 Prevention truly is key when it comes to herd health. During the NCBA Trade Show in Phoenix, Boehringer Ingelheim (BI) vets were there to discuss the economic proof points on why stopping problems before they started leads to reduced antibiotic use and higher profitability for producers' operations.
"We are seeing more and more people interested in preventing disease instead of having to treat it. It is very expensive to treat disease. We know if we can prevent diseases the cattle are going to do better, they are going to gain more and be healthier overall," said BI's Professional Services Veterinarian, Dr. Peggy Thompson.
Dr. Thompson said when an animal is sick early in life, they are 30-35 pounds lighter at weaning and that impacts a producer's bottom line. It's also more than just getting an animal vaccinated, timing is key.
Listen to my complete conversation with Peggy to learn more about the trends in preventative medicine we are seeing today.
Interview with Dr. Peggy Thompson, Boehringer Ingelheim