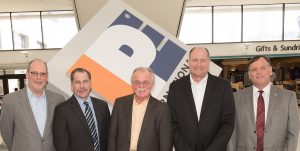 Tom Hensley, president, Fieldale Farms, Baldwin, Ga., was elected chairman of the board of directors of U.S. Poultry & Egg Association (USPOULTRY) during the International Poultry Expo, part of the 2018 International Production & Processing Expo.
A native of West Virginia, Hensley graduated with a degree in business from Marshall University. Before joining Fieldale Farms, Hensley was a tax manager at Price Waterhouse & Co. He is currently president of Fieldale Farms where he has worked for 40 years, as well as a member of Fieldale Farms Corporation board of directors. In addition, he is past chairman of the National Chicken Council and a life member of the Georgia Poultry Federation. He actively serves on various charitable organization boards, where he has been both active and recognized for his service.
John Prestage, Prestage Farms, Clinton, N.C., was named vice chairman. Greg Hinton, Rose Acre Farms, Seymour, Ind., was named treasurer. Mike Levengood, Perdue Foods, Salisbury, Md., was named secretary. Jerry Moye, Hendrix Genetics, Ontario, Canada, is immediate past chairman.