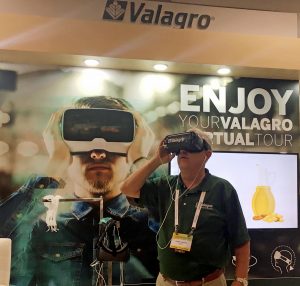 One of the gold sponsors at the 3rd Biostimulants World Congress in Miami this week is industry pioneer Valagro.
"Valegro started in business in 1980…so for the past 30 and more years, we have been developing biostimulants," said Mario Mastrangelo, Valagro USA country manager. The company is headquartered in Atessa, Italy with a product distribution network covering more than 80 countries. "Our main geography in the USA is California, Florida, and the Midwest." Valagro is using virtual reality at the Congress to showcase the company's strong commitment to research and development with a virtual tour through their facilities.
This is the first time the Congress has been hosted in the United States, which Mastrangelo says is significant because the use of biostimulants is growing significantly here. "We are seeing an increase in the adoption rate and U.S. farmers have started asking about biostimulants," he added. "The North America market is projected to become the biggest market for biostimulants in the near future."
Learn more about Valagro and the biostimulants congress in this interview. Interview with Mario Mastrangelo, Valgro USA
The 3rd Biostimulants World Congress is being held through November 30th, at the Hyatt Regency Hotel, Miami with more than 1,200 delegates from around the world expected to participate.