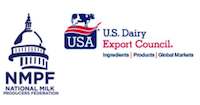 Leading animal agricultural groups representing the dairy and poultry sectors spoke out this week highlighting what a NAFTA modernization would mean for each of their prospective industries.
The U.S. Dairy Export Council (USDEC) and the National Milk Producers Federation (NMPF) sent comments to the U.S. Trade Representative describing the existing North American dairy landscape as one in which U.S. dairy products flow relatively unhindered to Mexico but are curtailed by Canada's increasing use of policy tools violating international trade obligations.
"NAFTA has accomplished a great deal over the past two-plus decades, but it has also been overtaken by new, unanticipated forms of trade and trade problems," said Tom Vilsack, USDEC president and CEO. "We agree that NAFTA could use a facelift and our industry looks forward to working with the Trump Administration to explore ways to preserve and strengthen it."
Last year, the U.S. dairy industry exported $1.2 billion worth of dairy products to Mexico, a dramatic increase from $124 million in 1995. Mexico is the largest U.S. dairy export market by far, roughly double the size of the industry's second-largest market, Canada.

The National Chicken Council (NCC), USA Poultry & Egg Export Council (USAPEEC), and the National Turkey Federation (NTF) call Mexico their most important U.S. export market followed by Canada. They ask for:
First, Canada and the U.S. had reached preliminary agreement on increasing the quotas for U.S. chicken into Canada. This would represent modest improvements in trade liberalization, but would not represent threats to current domestic policies or create market disruptions. The U.S. industry also believes that there should be similar increases in the market access for U.S. turkey and turkey products.
Second, significant progress was made in the course of TPP negotiations to improve and update the Sanitary and Phytosanitary (SPS) rules applicable to free trade agreements. This important work should not be lost. The poultry industry joins its fellow agricultural industries in urging the U.S., Canada and Mexico to adopt these improved SPS provision as a replacement to the SPS chapter currently in the NAFTA text.