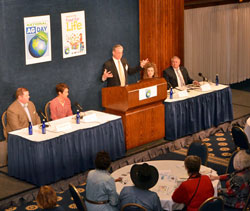 This is the time of year things really get rolling in agriculture, making it a great time to celebrate National Ag Day. Yesterday the US Farmers & Ranchers Alliance (USFRA) made the most of that day with a panel discussion about SMART farms and how producers today are growing sustainable, nutritious food and how to communicate that to consumers.
The panel was moderated by Greg Horstmeier, Editor-in-Cheif at DTN and included two farmers: Chip Bowling, crop farmer from Maryland, NCGA Chair and USFRA Vice Chair, and Lauren Schwab, Ohio pig producer and USFRA Faces of Farming and Ranching. Beverly Flores, Media and Communications Manager at John Deere and Andrew Walmsley, AFBF Director of Congressional Relations presented from the industry and ag group perspective.
Continual improvement was the message from the growers.  "There's a multitude of things we're doing different over the last five to ten years," Chip explains.  "We've changed a lot of the ways we do farm.  I like to think that we are definitely doing our part when it comes to the environment, with pesticides, chemicals, soil erosion and just being a better steward of the land."
"Really, since I can remember growing up on the farm we've continuously improved the way we house our pigs in order to give them better care and management," adds Lauren, explaining the depth she goes to to provide proper nutrition and housing for the pigs in her care.
From John Deere's perspective the technology available to growers is big; smart phone apps, connectivity between data and advisors, and the equipment itself play a big part in farming better.  "I think there are a lot of different components that you can get excited about," Beverly says.  "I think over all the innovation and integration and the connection within agriculture is what really makes it exciting."
All this advancement means little if we cannot communicate it effectively to consumers and policy makers, however. "Time and time again we've seen it in the fights where we have failed in the past, as an organization and as a whole value chain– of not communicating with the folks we need to be communicating with," Andrew emphasizes.  "We've created additional headaches for ourselves that we didn't necessary need to create.  But I think we've learned our lesson."
You can listen to the full panel discussion here:USFRA Panel Discussion