FMC Agricultural Solutions is expanding its portfolio, and herbicide product manager Chris Reat says it's an exciting time to be with the company.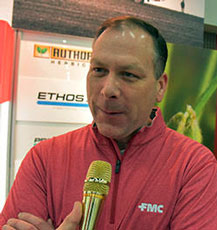 "FMC was always recognized as a very strong insecticide company, we've morphed into a strong soybean pre company, and now we're looking to build that portfolio out even further," said Reat during an interview at the National Farm Machinery Show in Louisville. "We're getting to a point where we can have a positive conversation with growers about an FMC solution for their corn or soybean acres."
Reat says recent acquisitions, such as the Cheminova purchase in 2015, have helped build up FMC's portfolio but being stable now during a time of industry mergers and acquisitions may provide them with new opportunities. "We want to make sure that farmers don't lose the tools they have," he said.
Learn more in this interview. Interview with Chris Reat, FMC