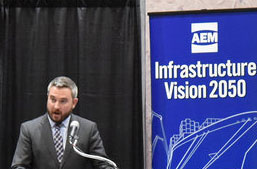 People don't know the story of agriculture, Kentucky Commissioner of Agriculture Ryan Quarels stated at the kickoff panel of the National Farm Machinery Show. The event, sponsored by the Association of Equipment Manufacturers (AEM), highlighted the importance of rural infrastructure and the challenges faced due to a lack of understanding by consumers.
Recently Kentucky passed a bill to make transporting equipment easier; old laws required the removal of duel wheels to drive on roads. During debate on the matter one committee member had to ask what duel wheels are, which is funny, Quarels says, but shows us that we have to do a better job.
"We have to do a better job, as agricultural leaders. We have to do a better job explaining what our industry is about, who we are and why we continue to be the backbone of America, because if you look at where American agriculture was 50 years ago to where we are today, we have doubled the amount of food we produce. We're doing it with 22 million less workers and we're only using 75 percent of the land we used to use in the United States to farm. So we're doing a very good job."
In fact, it's that story of efficiency that is the cause of the disconnect, but our new administration and his cabinet need to understand that the concerns of agriculture rank right up there with the concerns of the EPA or anything else in the nation. And sure, trade looks different now than it did a few months ago, but agriculture can benefit from new agreements and we need to be ready to transport our product, Quarels emphasizes.
You can listen to his full address here: Ryan Quarels, Kentucky Commissioner of Agriculture