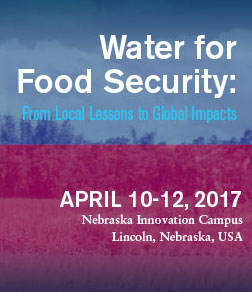 Mark your calendars for the 2017 Water for Food Global Conference April 10-12 at Nebraska Innovation Campus in Lincoln, Nebraska.
The theme of the conference this year is "Water for Food Security: From Local Lessons to Global Impacts" and is based on the premise that global breakthroughs come from local action. It will feature plenary and parallel sessions to explore the research, technology and educational approaches that are advancing food and water security for our world.
Among this year's speakers are A.G. Kawamura, former California Secretary of Agriculture and third generation fruit and vegetable grower; and Marlos De Souza, Secretary, Water Platform Land & Water Division, Food and Agriculture Organization of the United Nations (FAO).