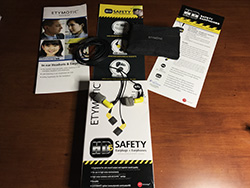 Hello. @AgriBlogger here with an AgNerd review series. It's is in two parts. This one focuses on the Etymōtic HD Safety Earphones, specifically the HD5 model. Part two will focus on the new Apple AirPods.
My trip to Potato Expo last week was a test run to switch between the Etymōtic HD5 earphones and AirPods. Etymōtic sent me the HD5 model for the test. It is one of the products they make specifically for hearing safety. I know how loud environments can be for farmers and these products do a very good job of cutting down on noise while allowing you to listen to farm podcasts or music from your phone.

Etymotic manufactures three hearing safety products for the farming community:
HD•Safety™ earplugs
HD•Safety™ Earplugs + Earphones
HD•15® Electronic Earplugs
Etymotic's safety line of earplugs and earphones reduce the risk of noise-induced hearing loss and tinnitus. Used for years by musicians and others exposed to high sound levels, these products are now being highlighted as essential equipment for farmers.
The company claims that these earplugs protect from loud sounds while still allowing safe sounds to pass through. They also claim they feel like there is nothing in the ears. So, let's start there. I used the foam plugs which inserted very easily and were very comfortable. The fit securely and the kit comes with different sizes and type of plugs.
I wore these on the plane which I figured would be a good test for them. It is amazing how well they filter out sound without expensive sound cancelling technology. Even after wearing them for hours my ears were not at all "weary" of the wear. For you farm podcasters out there, consider a small set of earphones like these for a noisy media room!

The goal of the product is to let you listen to music (or a call with the HD3 model) without having to turn it up too loud to hear over machine noise, like your tractor for example. I listened to music from my iPhone 7 (with 3.5mm plug adapter) and it sounded crisp and clear. There are products with better music sound, especially more bass, but these were just fine for me.
We all know there are occupational hazards that go along with farming. Why let hearing loss be one of them if you don't have to? The price for these products is very affordable with a range between $59.99 to $79.99 depending on the model.

Etymotic Research, Inc. is an engineering-driven research, development and manufacturing company. The name "Etymotic" (pronounced "et-im-oh-tik.") means "true to the ear." Mead Killion, Ph.D. founded Etymotic Research in 1983 to design products that accurately assess hearing, improve the lives of those with hearing loss, protect hearing, and enhance the listening experience of musicians and music lovers everywhere.

In part two next week I'll go in a completely different direction with my Apple AirPods. Happy listening.