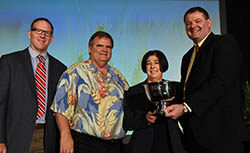 The Agricultural Retailers Association (ARA) presented this year's Ag Retailer of the Year Award during the the ARA Conference & Expo to Gar Tootelian, of central California. The award, sponsored by Monsanto, ARA, and AgProfessional magazine, is highly esteemed by the industry and honors the very best among ag retailers.
Gar Tootelian was represented at the ceremony by president Greg Musson and managing partner Karen Musson. The company was founded by Karen's parents and is still owned and operated by Karen, her sister, and their daughters
"We're really honored to see my parents company going into its third generation," said Karen in an interview during the ARA Foundation Dinner at this year's conference. "We're not the biggest or oldest ag retailer in the country, but we've been around for 67 years and we've seen a lot of changes in that length of time, and we've also seen a lot of growth in that industry."
Gar Tootelian was recognized not only for the investments the company has made in its growers, but for the investments it has made in the surrounding community. The Mussons have shown continuous involvement in local charities and support groups and have worked to promote agricultural careers to local high school and college students.
"It's really important that students today, and parents and families as well, realize that farming touches them and is integral to their lives, and that we do have their very best interests at heart," she said
Learn more in Chuck's full interview with Karen here:
Interview with Karen Musson, Gar Tootelian
View and download photos from the event here: 2016 ARA Conference Photo Album