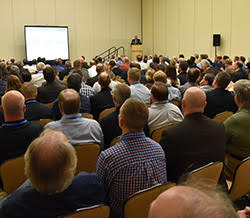 If there is one word to describe the current economic outlook for agriculture it would probably be uncertain, according to Terry Barr, Senior Director for the Knowledge Exchange Division of CoBank.
"We're entering into a fairly dynamic period of uncertain political and economic realities," said Barr, who spoke to a standing room only crowd at last week's Ag Retailers Association annual meeting in Orlando. "We're in transition politically, we're in transition economically, we're finishing out this commodity super-cycle, so there's a lot of things on everybody's plates trying to plan for the future."
Barr says the global dynamics of agriculture are coming more into play. "It's a more difficult period than we've been through – ag's enjoyed a pretty good run here – and now we've got some tough challenges and adjustments to make," he said.
Get the major takeaways from Barr's talk at ARA in this interview: Interview with Terry Barr, CoBank