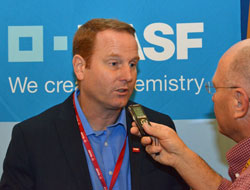 BASF just announced new Zidua® PRO pre-emergent herbicide for soybean farmers earlier this month so Technical Marketing Manager Daniel Waldstein was able to provide the latest details at the recent National Association of Farm Broadcasting (NAFB) annual Trade Talk.
"It's got three unique chemistries combined together that gives us three different sites of action," said Waldstein. "That gives us broad spectrum weed control for grasses and broadleaves and it also gives us built-in resistance management for growers."
Waldstein says the pre-emergent residual component of Zidua PRO herbicide provides a good starting point for season-long control of weeds like Palmer amaranth, waterhemp and marestail. "At BASF we have the motto 'start clean and stay clean' and there's really never a good time to have weeds in your soybean fields," he said.
Zidua PRO herbicide pairs with post-emergent herbicides containing additional sites of action, including BASF's soon-to-be-approved Engenia™ herbicide. Learn more in this interview: Interview with Daniel Waldstein, BASF
Coverage of NAFB Convention is sponsored by