DuPont Pioneer 2016 North American yield data from nearly 50,000 on-farm comparisons shows the company's products and services have had a hand in the record corn and soybean crops being harvested across the country right now.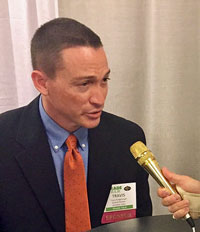 At the NAFB Trade Talk last week, DuPont Pioneer senior corn marketing manager Ryan French was on-hand to talk about Pioneer brand corn products, including the world-record-setting P1197 and P0157, which provided farmers with 8-9 bushel per acre advantages in comparisons this year. "We've got a full portfolio of options," said French. "So you can build a balanced managed risk portfolio of what you want to put in the ground."
French also talked about the new line-up of Pioneer® brand Qrome™ corn products that help deliver improved yields to a wider array of hybrid platforms.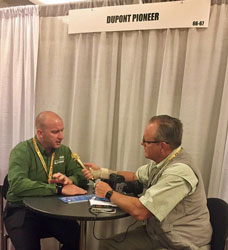 Better management is also helping growers achieve higher yields, such as DuPont Pioneer Encirca services and Decision Agriculture, which Senior Services Manager Travis Kriegshauser discussed at Trade Talk. "Encirca services is our ability to be able to take agronomy based decisions to the next level and take it down to the farm," he said. "Encirca certified services agents … work wherever growers are at to make a move from precision agriculture into decision agriculture."
Listen to interviews with DuPont Pioneer representatives at NAFB Trade Talk:
Interview with Ryan French, DuPont Pioneer Interview with Travis Kriegshauser, DuPont Pioneer
Coverage of NAFB Convention is sponsored by