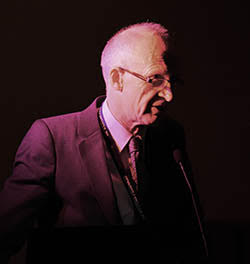 Once again John Morris, Associate Publisher of Farm Business Communications, gave a report on the activities of the Senators at the recent Canadian Farm Writers Federation conference. The Senators are past presidents of the CFWF. John's picture was created by the lights for the GMOs band that played after award presentations.
His presentation was sprinkled with laughter as he relayed highlights of farm tours and experiences of the group. He quips that younger members of the group were amazed at a museum's display of a phone booth, jokes about the five year plan of an 84-year-old dairy farmer, and expresses amazement at learning where Easy Wrap comes from.
But the understanding of food and where it comes from in Canada was greatly appreciated by the six men and seven women Senators who took part in the program. Morris thanked the many people involved in creating the experience that was so educational, even dubbing an honorary Senator for efforts on behalf of the hospitality room.
To hear John Morris's full remarks, listen here: John Morris, Senators' Report
2016 Canadian Farm Writers Federation Conference Photo Album